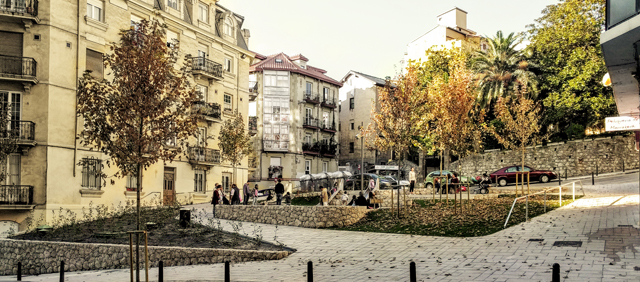 El objeto del concurso era recuperar como referencia urbana la plaza de la calle Guevara en Santander para procurar una mayor visibilidad como lugar de estancia y reordenar sus usos y recorridos. Para la recuperación de este espacio público se debían solucionar los problemas de exceso de pendiente, desconexión del espacio, invasión de automóviles, y la aparición de algunos elementos disonantes al entorno.
The subject of the competition was to recover the square in Guevara Street in Santander as an urban landmark ensuring greater visibility as a public space and rearranging the paths and the uses. In order to recover this public space, it must be solved different problems such as the excessive slope, the disconnected space, the car invasion and the appearance of elements clashing with the surroundings.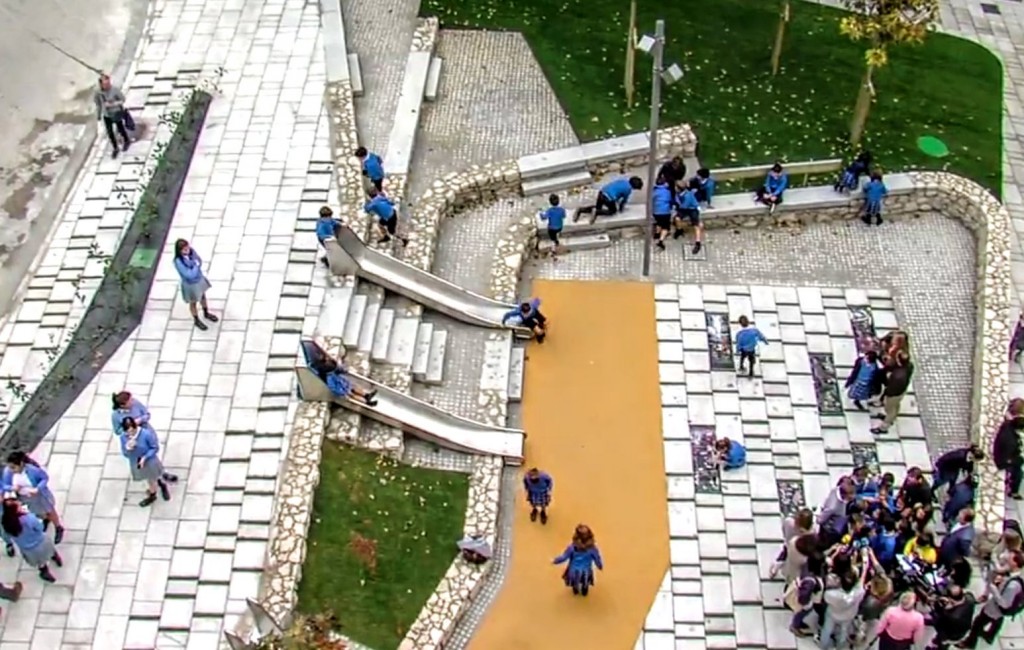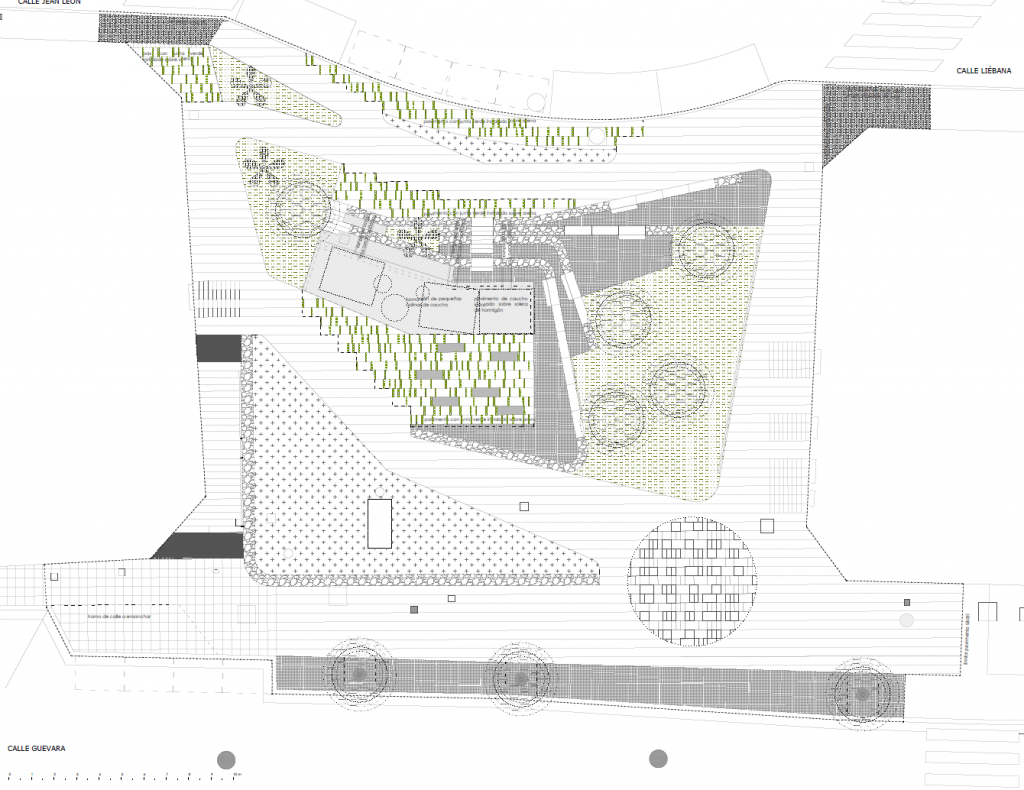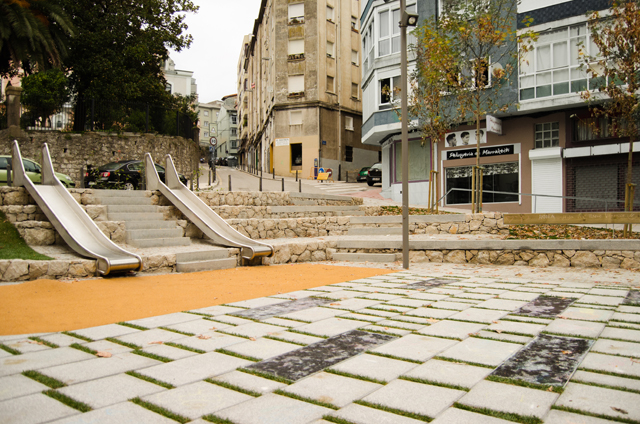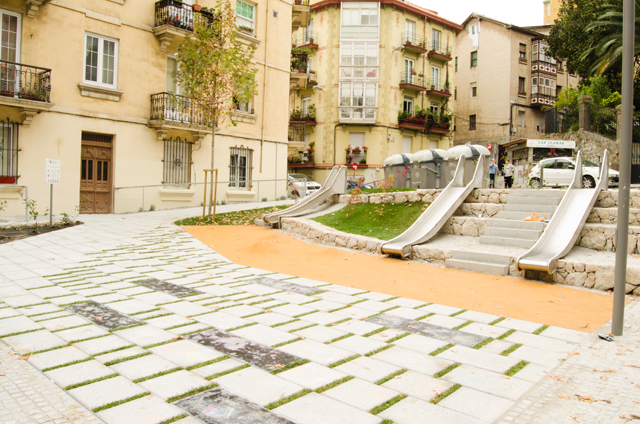 La primera actuación de mejora consiste en la reducción de la pendiente mediante el aumento de los recorridos, lo que potencia a su vez, el uso del espacio al forzar el recorrido por el mismo. Se contempla la eliminación del aparcamiento y de las filas de contenedores de residuos urbanos del entorno favoreciendo la continuidad espacial y la visibilidad del espacio. La reubicación de los contendores en un espacio cercano en la misma calle lleva aparejado un ensanchamiento de la acera evitando tramos estrechos de calle que facilitan la degradación de la calle.
The first improvement action is to reduce the slope by lengthening the paths, thereby enhancing the use of the space by forcing cross it through it. We take the removing of the parking spots and the dumpsters into account boosting the continuity and the visibility of the space. Relocating the dumpsters in a close area within the same street we can widen the sidewalk avoiding narrow sections of the street that get deteriorate easily.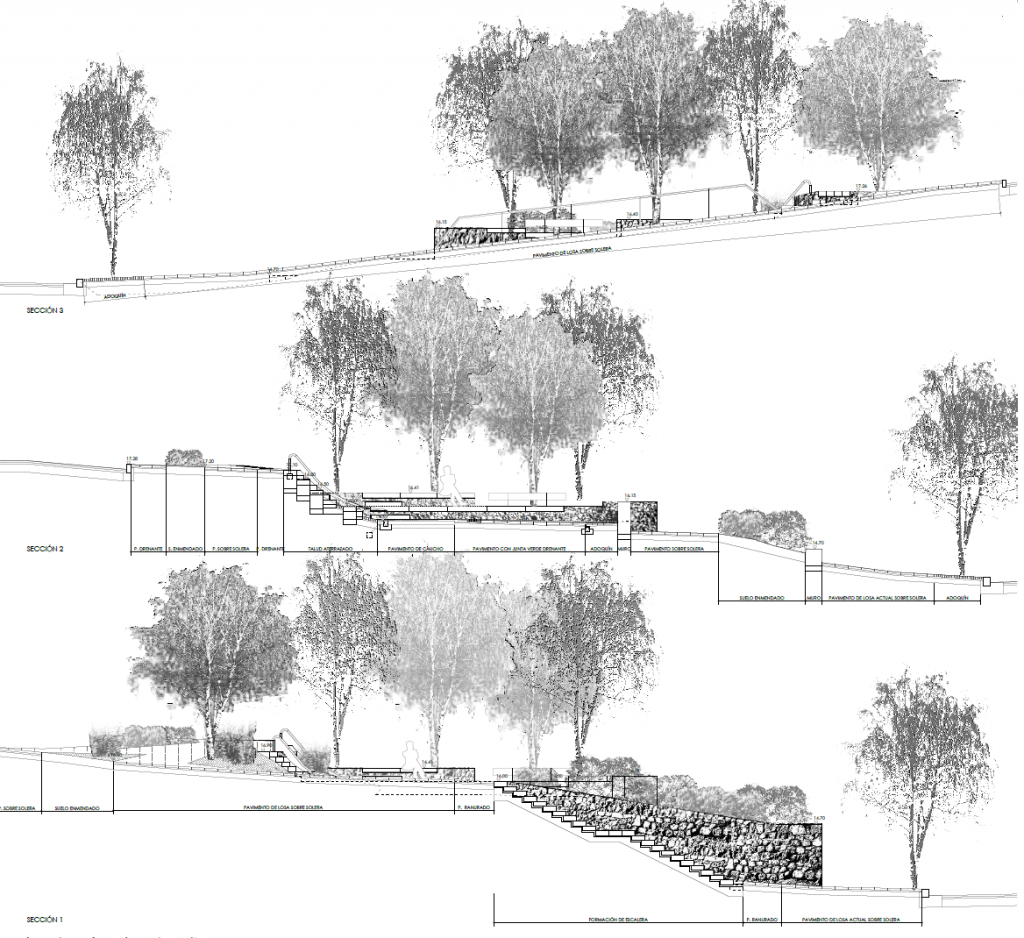 Se apuesta por la conservación de las características propias del lugar, que garantizan la viabilidad y la conservación en el tiempo de la propuesta. El uso de sistemas propios como son los muros de mampostería de piedra o el empleo de especies vegetales autóctonas como materiales del proyecto vinculan la propuesta con el paisaje local y con elementos singulares del entorno como el colegio San José.
We go for the preservation of the characteristic of the place, ensuring the viability and the maintenance of the intervention. The use of systems from the place like stone masonry walls and the planting of native trees as the materials for the project connects the proposal with the local landscape and with the singular elements of the surroundings as the San José School.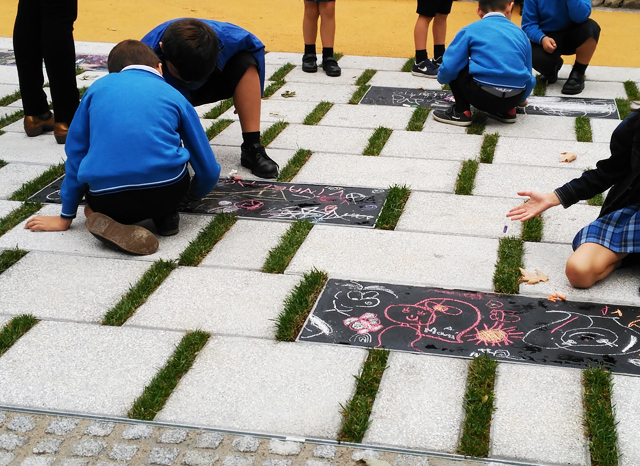 Se potencian los pavimentos ya existentes en las calles o espacios públicos adyacentes para garantizar la continuidad con el ámbito de la actuación, prevaleciendo los de piedra local sobre los otros tipos de baldosas. Vinculada a las zonas de asiento, la piedra del suelo se texturiza y se modifican los formatos señalando un cambio de uso que ralentiza la circulación. En la parte central la textura del suelo se transforma en terrizo compacto que impide el barro, convirtiéndose así en una zona más lúdica con pavimento de pizarra para juegos infantiles.
The existing pavements over the streets and over the adjacent public spaces are strengthened to ensure the continuity in the area, prevailing the stone pavements over other kind of tiles. When linked to a seating area, the stone pavements get textured and resized noting a change in the use and slowing the movements. In the central area, the texture change into a compact sand pavement avoiding muddy areas and becoming a playful area with slate pavements and children playground.
Se aprovechan los desniveles para generar situaciones lúdicas y se crean taludes vegetales para absorber los desniveles bruscos y favorecer la fluidez espacial. Se tapizarán con herbáceas y gramíneas de escaso mantenimiento (trifolium, lolium permne…) y un tratamiento localizado de árboles caducos y arbustos locales.
We take advantage of slope to create playful situations and we create green slopes to incorporate abrupt changes on levels by encouraging the space fluency. Those slopes will be covered by herbaceous and grasses with low maintenance (trifolium, lolium permne…) and with punctual planting of local and deciduous trees.
El resto de desniveles se tratan mediante bancadas con muros de contención de mampostería local que dialogan con los cerramientos  y contenciones propios del entorno como se evidencia en las tapias del colegio San José. Estas zonas, además, se vinculan al arbolado de hoja caduca para lograr zonas de descanso a la sombra en verano y con sol en invierno.
The rest of discontinuities are solved by linear benches made of stone masonry and related with the walls on the surroundings as is evidenced on the walls of the San José School. These areas are also connected to the deciduous trees to create shadow on summer and sun on winter.