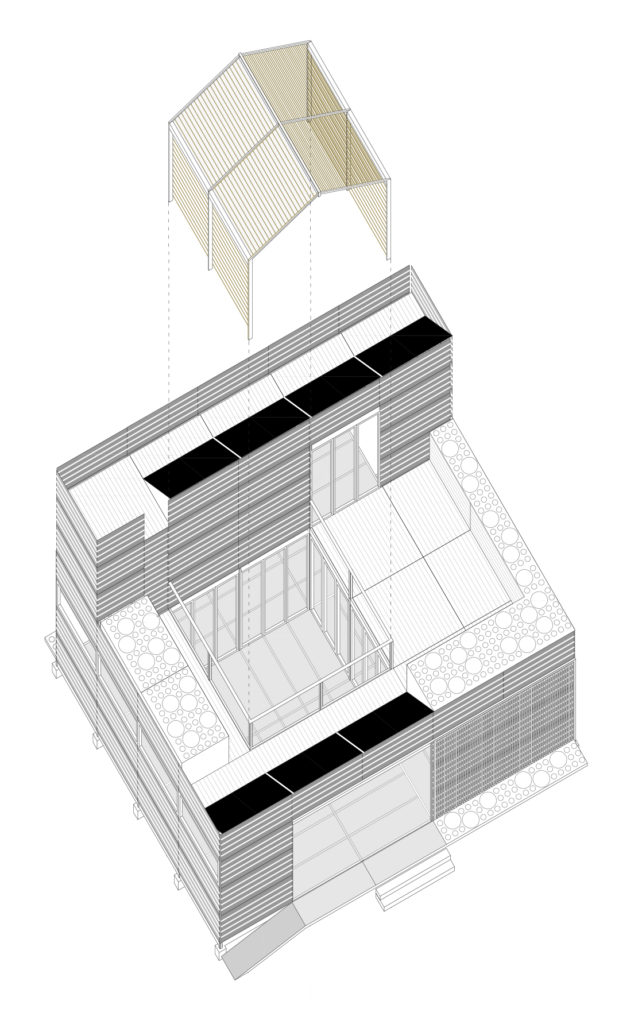 ¿CÓMO A TRAVÉS DE UN MISMO OBJETO TRASLADAR LA EXPERIENCIA DE VIVIR EN LUGARES AÚN NO CONSTRUIDOS?
Proponemos partir del empleo de soluciones sencillas y abstractas para adaptarnos a distintos contextos. Para ello apostamos por un módulo de 3x3x3 metros con un recrecido de 1 metro de altura en su parte superior.
Este módulo se desarrolla a partir de un sistema de elementos prefabricados de madera contralaminada, un material sostenible, de fácil manejo y con buena capacidad de aislamiento.
HOW COULD WE GET THE EXPERIENCE OF LIVE IN UN-BUILT PLACES WITH A SAME OBJECT?
We propose the use of simple and abstract solutions to adapt us to different places. Thus, we go for a unit cell of 3x3x3 meters with a level of 1 meter on the top.
This unit develops with a system of prefabricated elements of laminated wood, a sustainable material, easy to work and good insulation.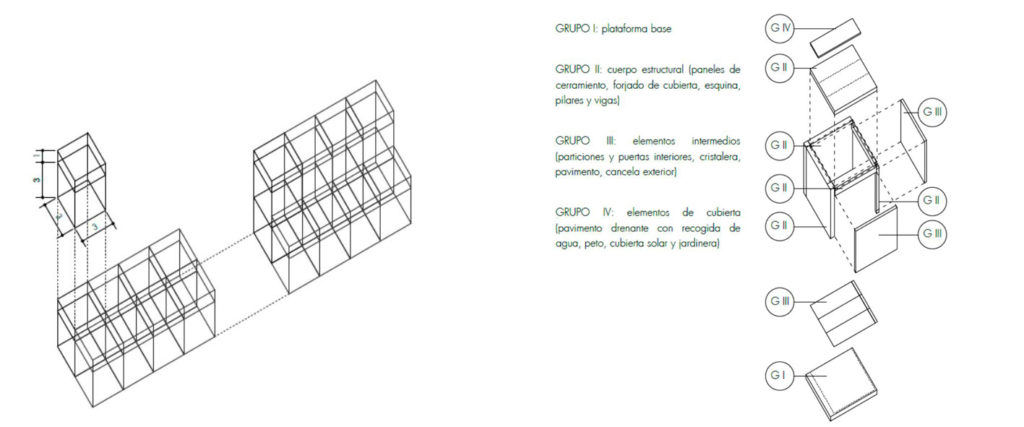 EL PROGRAMA COMO FRONTERA
A partir de este sistema desarrollamos el espacio show office en los límites de la intervención, acotando un espacio libre interior al que vuelca toda la actividad de ventas. Esta estrategia permite:
-Acotar un límite de la intervención dentro del solar de la promoción.
-Construir una graduación de espacios exteriores que introduzcan al comprador en el nuevo ámbito AEDAS.
-Aprovechar el acondicionamiento de estos espacios exteriores como medida de control climático.
-Establecer un control de visuales a través de estos espacios y los cerramientos del edificio, en un entorno aún pendiente de construir o en proceso, en donde se pretende que este estado pase inadvertido.
Estos espacios exteriores son tres: la terraza, el zaguán y el patio.
THE PROGRAM AS LIMIT
From this system, we develop the show office in the limit of the intervention, delimiting an open space indoor connected with the sale activity. This strategy let:
-To delimit a boundary inside the plot of the promotion.
-To build a sequence of open spaces to introduce the buyer in the AEDAS's experience.
-To benefit the refurbishment of these spaces as a tool of climatic control.
-To get control of views, from the open spaces and the facades of the building, in an un-built place or in progress that wants to pass undetected.
These open spaces are tree: the terrace, the entranceway and the patio.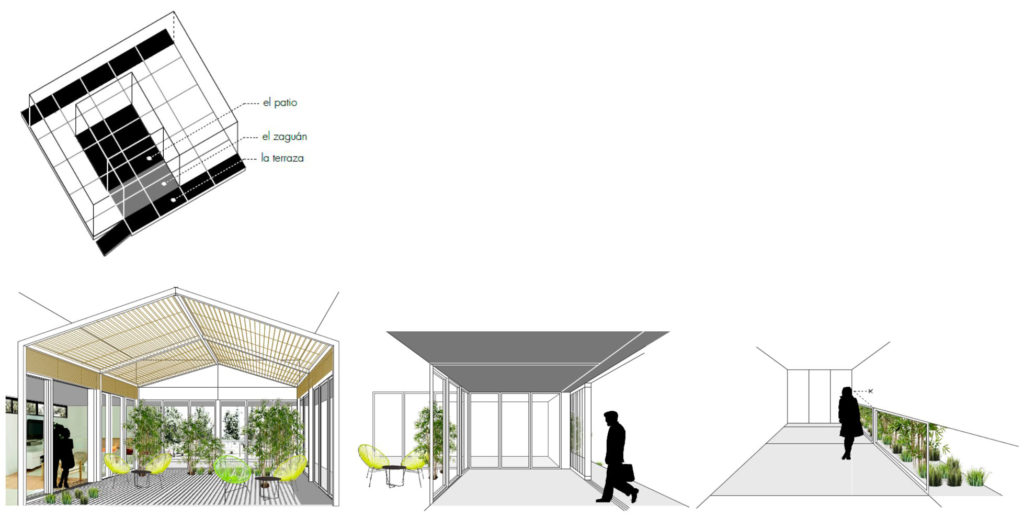 EL EDIFICIO EFICIENTE
-Cubierta solar:
El módulo que configura el edificio cuenta en su parte superior de un recrecido de 1 metro de altura que posibilita la instalación de placas solares para la autosuficiencia energética del edificio.
-Suelo filtrante:
Los pavimentos de las zonas exteriores filtran el agua a través de sus juntas y mediante una placa nervada inferior se canaliza hasta zonas con depósitos de acumulación para su aprovechamiento en el riego de la vegetación instalada y el llenado de cisternas.
-Patio climático:
El patio, además de como estancia exterior constituye la principal medida de control climático. La estructura que lo cubre permite confeccionar una celosía de protección solar para el verano, o un invernadero en invierno aportando calor a las dependencias interiores.
-Ventilación cruzada:
El patio y la envolvente exterior garantizan la ventilación cruzada de todos los espacios del programa.
-Doble aislamiento:
Los paneles del grupo I y II, cuentan con doble aislamiento minimizando las pérdidas de calor en invierno o el sobrecalentamiento en verano.
THE EFFICIENT BUIDING
-Solar deck.
The unit cell has an upper level of 1 meter that make possible the installation of solar panels for the energy self-sufficiency.
-Filtering floor.
The pavements in the outside areas filter the water between its joints and a ribbed plate conduce it to water tank to irrigation of plants and to fill of toilet cisterns.
-Climatic patio
In addition to an exterior room, the patio is the main tool of climatic control. Its cover make a lattice for solar protection in summer, or a greenhouse in winter to capture warm for the indoor rooms.
-Cross ventilation:
The patio and the facade let the cross ventilation of the program.
-Double isolation:
The panels of group I and II, has a double isolation avoiding heat losses in winter and overheating in summer.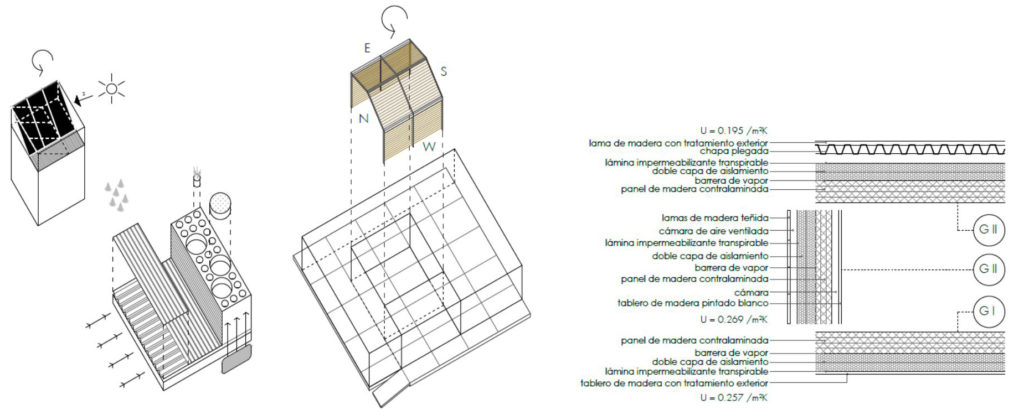 EL PROGRAMA FLEXIBLE
La serie 3x3x3 se plantea como un sistema flexible con distintas posibilidades de montaje para adaptarse a programas más extensos o más reducidos según sean las características de la promoción.
THE FLEXIBLE PROGRAM
The series 3x3x3 is a flexible system with different possibilities of assembly to adapt to larger or lower programs depending of the characteristics of the promotion.